How Editing Converts A Draft to Full-Fledged Dissertation?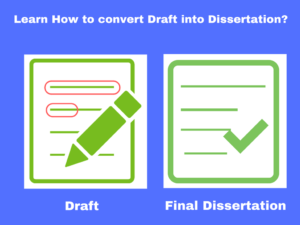 Editing is one of the critical issues faced by PhD candidates. While the draft is prepared, it presents the rough structure of the research conducted and is not the final picture. Editing is an activity that simplifies paper and makes it reader-friendly. It ensures the structuring of the draft, appropriate language usage, and methodology description is given properly. Proofreading is an activity that facilitates the reader to keep reading the formatted draft or dissertation.
PhD candidates also fail because of improper editing or proofreading. Editing converts draft into dissertation by arranging the structure of report and method of theory. Editing is not an easy activity, it involves the constant reading of draft, and it may also assess the quality of paper concerning style of writing, expressions used, improvisation to be done in structure and avoiding repetitive sentences. Proofreading helps in errors correction that has been missed while editing the draft. After several times of reading the draft, editing and proofreading is done, and final draft converts to dissertation; is then, submitted.
With editing and proofreading, quality of dissertation is improved. Various levels of editing are used such as substantive editing and ESL editing.
Substantive Editing – More of academic editing, substantive editing is superior level to proofreading. It checks on the flow of writing, vocabulary usage, impactful write –up, checking on facts presented and on the quantum of words used to express a thought. It fine-tunes draft to a professional level dissertation that increases readability of written material.
ESL Editing – This level of editing basically looks into the draft that is prepared by PhD candidates who use English as their second language. Refinement of language and correction of grammar as well as punctuations form a key part of such editing.
Editing and proofreading of drafted dissertation holds a lot of importance to bring the best out of the research and present a clear picture to the readers in the form of dissertation.
---